Welcome back Project Life community member Megan Anderson, NerdNest. In anticipation of Project Life creator, Becky Higgins, 12 week workshop, PROJECT REAL LIFE starting we asked Megan to scour the galleries within our Project Life community to find inspiring projects made by you.
I love that Project Life can just include a bunch of random bits, but sometimes you might want to focus on a certain story or relationship. Try using the PL format to create a single page layout, like BPC member
Sylvie Sancé
did in the above PL layout, which focuses on the relationship between two sisters.
How do you scrap a video? Take a tip from BPC member
kylbel
and include a QR code in your book: that way you can use a smart phone to scan the code, which will take you to the video online. Cool!
There's nothing that says you can't get artsy with Project Life! BPC Member
Princess Iceberg
not only used a large format artsy photo, cropped to fit into the page protector pockets, but she also folded strips of paper over the protectors on the outside of the protector! What a neat way to add texture.
For more Project Life inspiration
Read Megan's Project Life challenge series
Check out Megan's Project Life posts on her blog
Follow our Project Life Pinterest board
Follow Becky Higgins's creative team
Sign-up for the FREE Project Life Community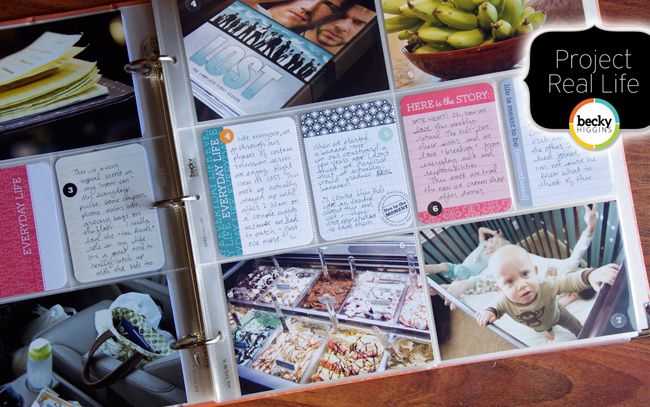 Don''t miss Project Life creator, Becky Higgins, Project Real Life 12-week workshop starting Thursday, October 4. Register and read all about it here!