Welcome back Project Life community member Megan Anderson, NerdNest. In anticipation of Project Life creator, Becky Higgins, 12 week workshop, PROJECT REAL LIFE starting we asked Megan to scour the galleries within our Project Life community to find inspiring projects made by you.
I love how BPC member
Pheeebzzz
used the different photo sizes in her digital Project Life template to her advantage. By making her focal photo the largest and adding supporting photos in smaller sizes, you know just where she wants you to look first.
Not everything that goes into Project Life has to be happy, and it doesn't all have to be something that directly happened to you. BPC member
Kathleen Ducharme included a memorial page out of respect for those effected by the Aurora shootings. Consider using Project Life as a way to overcome grief, include current events, or show support and respect.
Embellish away! I love how member
cococricketsmama used each of her pockets as a tiny layout. Consider sizing some of your photos a little smaller and layering with patterned paper and embellishments. Don't forget the label stickers for journaling!
For more Project Life inspiration
Read Megan's Project Life challenge series
Check out Megan's Project Life posts
Follow our Project Life Pinterest board
Follow Becky Higgins's creative team
Sign-up for the FREE Project Life Community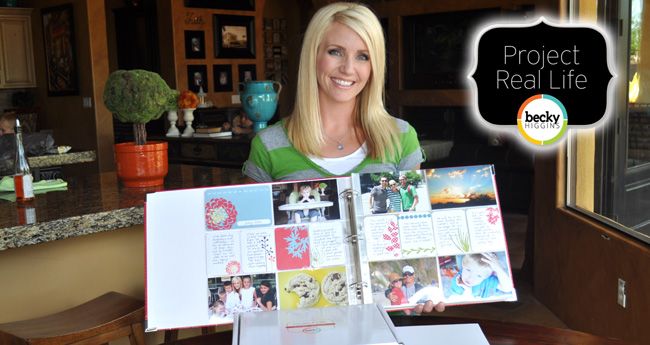 Don''t miss Project Life creator, Becky Higgins, Project Real Life 12-week workshop starting Thursday, October 4. Register and read all about it here!