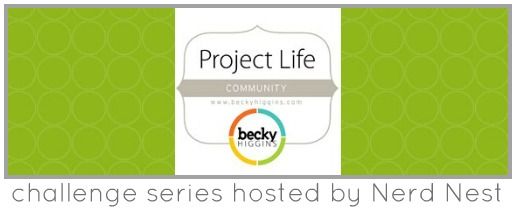 Project Life Challenge 4: Embellish Photos and Pages
Welcome to the final of four Project Life challenges this month, brought to you by Megan Anderson from the Nerd Nest.
The best thing about Project Life is that it simplifies my memory keeping process. Keeping things super simple helps active this, but I also find myself looking forward to the weekly creative outlet Project Life brings. It feels good to use up my stash and get a little fancy. I love to embellish my photos and pages in a simple way, so that I feel like Project Life is doable for me but also fits my style and stretches my artistic muscles a bit. There are many ways to embellish your Project Life pages in quick, simple ways. Here are a few ideas to get you started:
Add Strips of Color | When you are focusing on the photos, a few strips of color with simple designs go a long way. For the above page, I cut a page protector down to a custom size and sealed it shut with washi tape, a technique I first saw here. I added patterned paper that mimicked the spots on the lady bug.
Add a Little Dimension | You don't have to give up dimensional embellishments for Project Life! I usually add dimensional elements, like the chipboard leaves above or the felt circles in the first photo in the post, to the outside of the page protector with a super strong adhesive. This gives my pages more texture, makes it more fun for the kids (they LOVE feeling this stuff!), and allows me to overlap embellishments over multiple pockets.
Add Words to Photos | Adding words to photos gives you a chance to embellish photos, add titles, and tell the story behind the pages. For an awesome example of this, check out Ali Edwards's Week 20 Project Life.
Add Color | Layer bits of color over and under a photo that's a bit smaller than your pocket. Just a little bit can add a huge pop to your spread!
Make a Mini Page | If you're having trouble figuring out how to include embellishments in Project Life, try thinking of some of the pockets as their own little mini pages, complete with title, writing and a photo. Project Lifer Lisa Truesdell does this with almost every one of her pockets!
Combine Words and Photos in Each Pocket | I love adding a few words to each photo. I do this by writing in the negative space of the photo, writing on patterned paper above or below a photo, or adding a label sticker to the photo. I know that I won't really remember what's going on in these photos later, so a quick description is going to be so cool to have later. For a simpler take on adding words to Project Life photos, check out the work of Amy Schubert, who adds plain text to each of her photos using Powerpoint.
Create Unity with Patterned Paper | Most of the time I like to think of the whole spread when I'm embellishing a week of Project Life, so I try to create unity by repeating colors and patterns. In the above page, I used the three patterned papers over multiple pockets, which really unifies the page as a whole. I hope this inspires you to embellish your photos and pages!
GIVEAWAYS CLOSED!! THANKS FOR PLAYING
Participate in the challenge, and be entered into the challenge giveaways, by creating and upload your own Project Life page that illustrates how you embellish and upload it to the Project Life Community Gallery. Challenge is open through August 6. Winners notified and announced by August 10.
(Remember to tag it with embellish PL Challenge )

WINNER: Christina C
closed Challenge Giveaways: One lucky challenge participant will win the prize from this week's sponsor, Elle's Studio, a $25 gift certificate!!
Special thanks to all of our prize sponsors, listed below.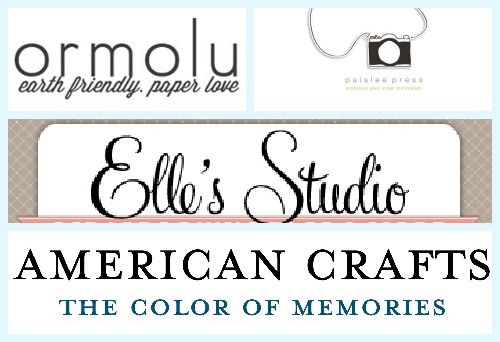 Grand Prize!! WINNER IS JEANETTE PIERCE
One person will be randomly selected to win.
Project Life (winner gets to select from one of the five editions)
Core kit
Binder
Big pack of photo pocket pages
Big envelope pages
Scrapbook dividers