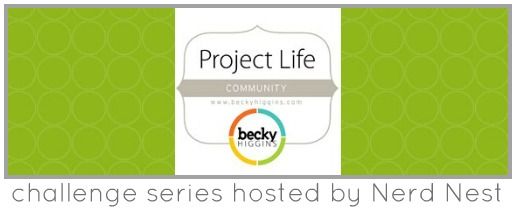 Project Life Challenge 3: Incorporate Memorabilia
Welcome to the second of four Project Life challenges this month, brought to you by Megan Anderson from the Nerd Nest.
One of my favorite things about Project Life and using a three-ring binder style scrapbook is the ease of including memorabilia. It's nice to have a place for all of those bits and pieces that I collect without having to worry how to work them into a 12x12 layout; I've been including more bits of life than ever before. My album is now filled with daughter's artwork, graduation announcements, notes, letters, product packaging, and other wonderful things that I would have otherwise lost or recycled. There are so many ways to fit memorabilia into your pages! Here are a few ideas to get you started:
Slip it in Page Protector Insert | My favorite way to include memorabilia is to add it in a small insert in the middle of my weekly spread. For the above spread, I collected two programs from my daughter's school music concert. I slipped in the first program as is, then folded the second program in half and slipped it behind the first program. That way the concert is introduced on the first side, and you can see which song my daughter's class sang on the back. I also included a photo of my daughter's class with some journaling attached to it. I let the photo "float" in the protector so that I can remove the programs to look at them later.
I like to attach journaling to the page protector with a brad or adhesive instead of attaching it to the memorabilia, so that the memorabilia is better preserved. You can include even more memorabilia by using an album pocket. Check out all of the memorabilia Marcy Penner included in this page!
Gather Bits from your Family | I love that including my family's memorabilia helps add their perspective to our life story. In the above page, I cropped my daughter's favorite Valentines from school and slipped them into an insert. You might try this method with your kids' birthday cards, your spouse's memos, receipts, or with business cards and brochures from a family vacation you weren't even a part of!
Include Tags and Project Packaging | The things you buy say a lot about your life, and bonus: the packaging often looks cool too. Try cropping down a food packaging box, including clothing tags like I did above, or making an embellishment out of packaging. Check out this packaging-filled spread from Amy Tangerine for more inspiration!
Scan and Shrink | Sometimes I have great memorabilia, but I don't want it to take up tons of space. I love scanning memorabilia (especially my daughter's artwork) and shrinking it down to fit into a single pocket, as I did with the mermaid artwork above. This is also a good option if you're concerned with archival safety.
Include Notes | The things you jot down throughout the week, like grocery lists, to-do lists, or little things to remember, are everyday things that you will really treasure later. These things might seem mundane now, but the sorts of things you'll put on those lists will change a lot over the years! In the above page, I included the feeding/diaper chart I kept on my nightstand to keep track of my then-newborn son's habits. This is something that I did because I didn't trust my sleep-deprived brain to remember when he last ate, but it ended up being a really interesting record of what life with a newborn is like.
Slip in Letters Between Pages | Notes and letters are really fun things to include, as they often get other's voice into your album. You can use some of the other methods mentioned to include notes and letters, but you can also just fold one up, and clip it behind a page.
Add in Real-Life Objects | If you don't mind adding bulk to your album, consider adding flatter objects directly into your album. I got the idea to include newborn clothes from Ali Edward's Anna Baby Book. I can hardly believe now that my son ever fit into that tiny thing. Other objects to consider: a paper hat from a zoo trip, a winter hat or gloves, or a smooshed paper cup from an event.
Take a Photo of the Memorabilia | If your memorabilia is too bulky to fit in, take a photo of it! I loved finding a way to fit in my daughter's diorama on this PL page covering what she was learning in school at the time. I hope this inspires you to include memorabilia in your Project Life!
GIVEAWAYS CLOSED! THANKS FOR PARTICIPATING
Participate in the challenge: and be entered into the challenge giveaways, by creating and upload your own Project Life page that shows how you incorporate memorbilia and upload it to the Project Life Community Gallery. Challenge is open through August 6. Winners notified and announced by August 10.
(Remember to tag it with memorabilia PL Challenge )
winner: Alissa
CLOSED Challenge Giveaways: One lucky challenge participant will win the prize from this week's sponsor,American Craft, a $25 assortment of slick writers.
Special thanks to all of our prize sponsors, listed below.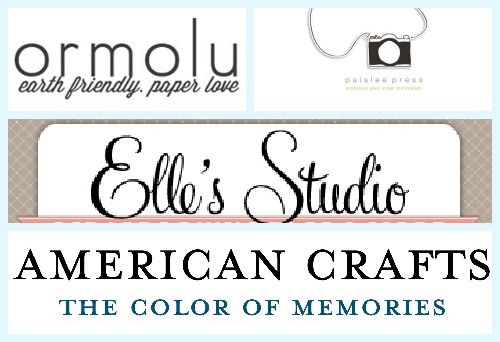 Grand Prize!! WINNER IS JEANETTE PIERCE
Project Life (winner gets to select from one of the five editions)
Core kit
Binder
Big pack of photo pocket pages
Big envelope pages
Scrapbook dividers
Giveaway details below, brought to you by Raffelcopter.